Skiaxtro Eco Farm - Season Transition Retreat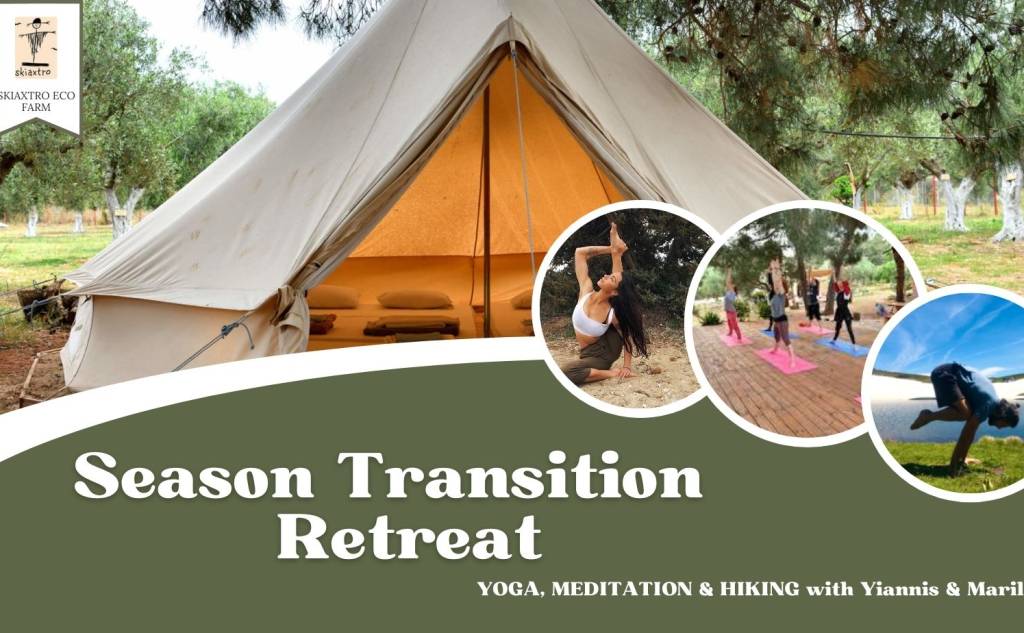 Autumn marks a transition in both nature and man. The light, the colours, the smells change. Rhythms calm down, and the energy of the period creates a tendency to introspect and redefine. Through slowing down, you will tune into the rhythms of nature, enjoying the fullness of the present moment.
This three-day event will be dedicated to kinetic and therapeutic practices aimed at balancing body and mind, seeking connection with the deepest self. You will indulge in physical exercise and meditation, with plenty of time to relax and explore the estate's magnificent grounds, the beautiful nearby beaches and the rich natural environment of Messenia.
PROGRAMME (indicative)
Friday, September 30th
• From noon onwards, arrive at Skiaxtro Eco Farm, settle into tents, tour the farm, and have free time to explore.
• 18:30-20:30: Opening the circle, yoga practice, pranayama.
• 20:30: Dinner at a local tavern
Saturday, October 1st:
• 08:00-10:00: Yoga practice (vinyasa), pranayama and meditation.
• 10:30-11:30: Home-made brunch (vegetarian-vegan) at the farm.
• 12:00-18:00: Exploring, relaxing and swimming at the unique beach of Voidokolia! Optional hike to visit Nestor's Cave, Paleokastro of Navarino, with its magnificent view of the Ionian Sea and the Gialova lagoon.
• 18:00-19:30: Dinner at a local tavern.
• 20:00-21:00: Return and free time at the farm.
• 21:00: Yin yoga
Sunday, October 2nd:
• 08:00-10:00: Yoga practice (vinyasa) pranayama and meditation.
• 10:30-11:30: Home-made brunch (vegetarian-vegan) at the farm.
• noon: Departure from Skiaxtro for Polylimnio! Hike the river and waterfalls, and dive into the frozen lakes!
• 17:00-18:30: Food at a local tavern (optional).
• 18:30: Completion of the retreat and free return to Athens.
Participation fee:
Reservations until September 16th: 130 euros per person for accommodation in a large Bell Tent.
For reservations after September 16, the price is 160 euros.
The above prices include the two nights at Skiaxtro Eco Farm in a large Bell Tent, homemade brunches, four yoga & meditation practices, and all other activities (hiking etc.).
VAT is not included.
Travel costs (gasoline and tolls) are not included. For transportation, carpooling will be organised to serve those who do not have a means of transport and save costs for everyone.
Each participant needs to have their own yoga props for the practices: a mat, blocks, a strap, a meditation pillow and a blanket. (in case you don't have any of the above, let us know!)
Recommended equipment:
Backpack, hiking shoes, Teva sandals (or 2nd pair of shoes that will get wet), a bathing suit, a hat, a beach towel, a bottle for water, snacks (nuts, fruit, bars, etc. - there are two refrigerators on the farm that you can store what is needed for in-between meals).
Practices are suitable for practitioners of all levels and will take place on the farm's specially designed wooden deck.
Beginners are also welcome. Experienced practitioners will be able to deepen with proper guidance and variations.
Information and participation:
6944 253820 (Yiannis), 6984 180 407 (Marili)
Participation is ensured by depositing the advance payment of 50 euros until Friday, September 16
In case of cancellation of the Yoga Retreat, all deposits are returned.