Christmas celebration in Koroni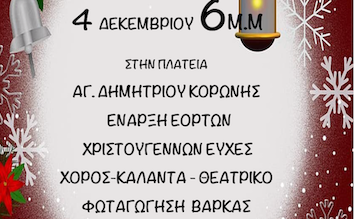 On Sunday afternoon, December 4th, all roads lead to Koroni! At 6 p.m., the celebration for this year's Christmas begins, in Agios Dimitrios Square, with wishes, dances, melodies, theatre performances and treats.
The illumination of the traditional Christmas boat will be the trigger of Christmas hope!
Organisation: Municipality of Pylos - Nestor, the Koroni Cultural Association, the Koroni Professionals Association.