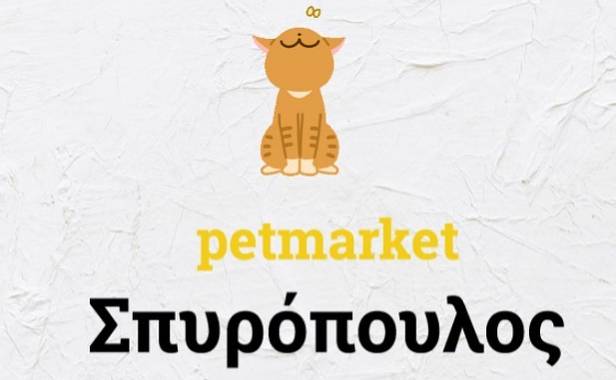 "Pet market Spyropoulos" has been active in the field of pets since 2006 in Kalamata. Today, they vigorously continue in the area of pet care with love and respect. "Pet market Spyropoulos" is always by your side, offering a wide variety of food and accessories for your smaller and larger friends. The physical presence and personal contact are still something irreplaceable for "Pet market Spyropoulos", and the effort of immediate product availability is continuous. This has the effect of the company being able to find suggestions and solutions for your living together with your beloved pet. This distinguishes them from an impersonal e-shop.
At "Pet market Spyropoulos" you will find everything for the dog (dry, raw and wet food, treats, antiparasitic medication, guides and collars, transportation cages, beds and houses, feeders, grooming products, clothes and auxiliary products for training) the cat (all the previous as well as catwalks, sand and toys), small animals (food, grass, cleaning supplies and mats), fish (fish food, aquariums, equipment and their maintenance supplies), reptiles (lighting and vitamins), birds (food, egg food, e.t.c.).
At the "Pet market Spyropoulos" store, you can find the right food for your small or larger friend taking their help and specialised guidance.
They can also serve you from a distance.
They can transport your shopping or send it to you all over Greece
They can give you advice for your friend about everything that concerns them and even help you make the right choice and build your aquarium together
They can also do the maintenance in your aquarium.
The owners of "Pet market Spyropoulos" thank you for the trust and preference that you, their customers, have shown them all these years. These, together with their love for your young and old friends, motivate them to continue energetically.
OPENING HOURS
NOW IS PROBABLY CLOSED
| | |
| --- | --- |
| MONDAY | 08:00 - 21:00 |
| TUESDAY | 08:00 - 21:00 |
| WEDNESDAY | 08:00 - 21:00 |
| THURSDAY | 08:00 - 21:00 |
| FRIDAY | 08:00 - 21:00 |
| SATURDAY | 08:00 - 17:00 |
| SUNDAY | CLOSED |