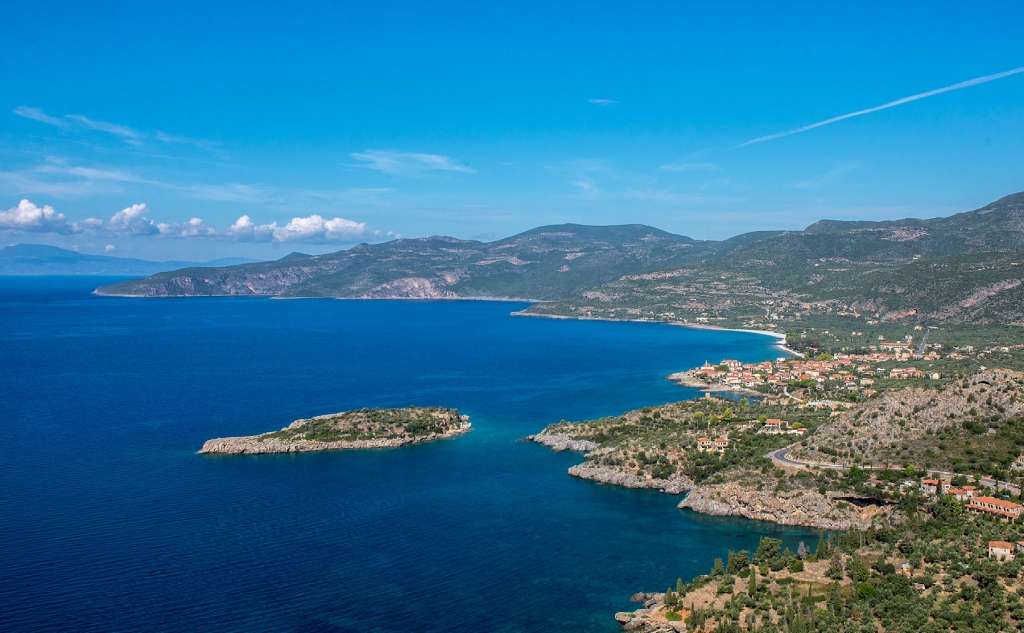 Merope is a green, uninhabited islet opposite the beach of Kardamyli that can be reached even by swimming. It is 400 meters away from the harbor of Agios Giannis, (Saint John), in front of the old customs - house, and 100 meters from the rocky coast of the "Vardia" location. The islet has a total area of 35 acres and since 1862 it has belonged to an old family of Kardamyli. It is, also, known by the name of "Amygdalonisos", which means almond-island.
The Ministry of Culture has characterized both the church of Agios Nicolaos and the fortress complex as historical, worth preserving monuments.  There are ruins of Venetian walls that date back to the 18th century, while around the church the visitor can find cells and a water collection cistern. More specifically, the church is a single - aisled, vaulted, stone - built basilica. A large two-storey, stone building is attached to the church. The exterior side of the building, together with the exterior side of Agios Nicolaos are part of the wall protecting the islet. In the interior of the church, the visitor may see the year of 1779 having been written. It is the year of its construction.
Every year, many of the inhabitants of Kardamyli, as well as those who arrive from the surrounding villages, participate in the religious celebration of Virgin Mary on the 23rd of August. It is, indeed, a unique experience for those visiting Mani on that day.