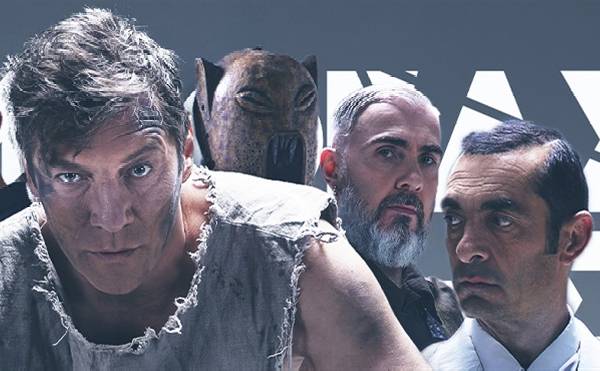 After an exciting tour with thirty-three performances that more than 50,000 spectators saw throughout Greece and three triumphant sold-out performances at the Ancient Theatre of Epidaurus, Poreia Theatre presents, for the second consecutive summer season, "Prometheus Desmotes (Bound)", by Aeschylus, translated by George Blanas and directed by Ari Biniaris. The show will be presented at selected festivals and theatres.
In this tragedy, Aeschylus deals with the resistance of Prometheus, chained on Mount Caucasus, to submit to the will of "merciless" Zeus. It is a heartbreaking appeal of the suffering god for man. A single invocation, with continuous escalation from beginning to end, for man. An unstoppable struggle against the power of power…
In an excellent cast, among others, the role of Prometheus is performed by Giannis Stankoglou, the part of Ocean by Alekos Syssovitis and the role of Mercury by Ioannis Papazisis.
The director notes:
In "Prometheus Bound", the conception, the structure, and the processing of the myth have as their centre the figure of the suffering god-prophet who stands up, for man, against the totalitarian mechanism of a tyrant. The show is a simultaneous theatrical and musical event. The actors draw information from the rhythmicity of the text and metabolise, with the body and the voice, in dramatic action, the sound and rhythm of the poetic speech. Using music as a vehicle, they create a dynamic representation platform and highlight emotional charges from the field of ancient tragedy. Choral parts, melodies and dynamic rhythms create a pulsating and lively sound environment through which the faces of one stand out.
Cast and Crew:
Translation: George Blanas
Directed by: Aris Biniaris
Music Composition: Fotis Siotas
Scenes: Magdaleni Avgerinou
Costumes: Vasiliki Syrmas
Lighting design: Alekos Anastasiou
Movement editing - Choreography: Evi Oikonomou
Dramaturgy consultant: Elena Triantafyllopoulou
Prototype metric analysis: Kaiti Diamantakou
Scientific collaborator: Katerina Diakoumopoulou
Assistant Director: Dora Xagoraris
Stage designer's assistant: Xenia Papatriandafillou
Costume designer assistant: Alexandros Garnavos
Lighting assistant: Nausika Christodoulakos
Special constructions – sculpture: Dimitra Kaisari Workshop
Makeup Editor: Evi Zafiropoulou
DISTRIBUTION
Prometheus: Giannis Stankoglou
State: Aris Biniaris
Violence/ Follower of Ocean & Mercury: Konstantinos Georgalis
Volcano / Follower of Ocean & Mercury: David Maltese
Ocean: Alekos Syssovitis
Ios: Nancy Buckley
Mercury: Ioannis Papazisis
Following States and Violence: Katerina Dimatis, Gregoria Methenitis
DANCE (Alphabetically)
Dimitra Vetta
Eleni Vlachou
Fiona Georgiadis
Katerina Dimatis
Dafni Kourktsoglou
Gregoria Methenitis
Dafni Nikitakis
Alexia Sapranidou
Thalia Stamatelou