"Understanding Social Media" - Presentation of Panagiotis Tzavara's book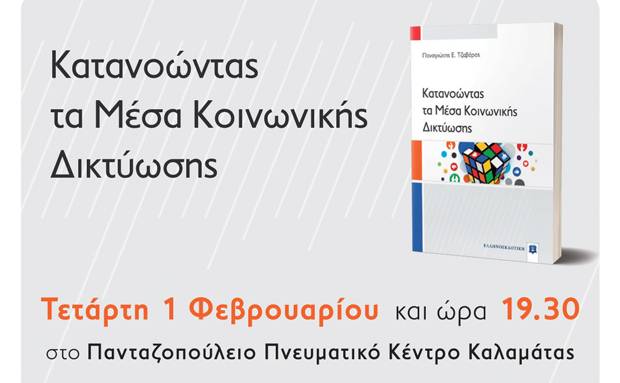 Presentation of Panagiotis Tzavaras' book "Understanding Social Media".
The rapid progress that has been made from the 20th century to the present day in the field of Information and Communication Technology science has catalysed every aspect of human activity. The spread of the Internet and its establishment as the most popular means of communication has redefined how people live in "Western societies" and has radically reshaped them.
Among the numerous applications and communication possibilities offered by the Internet, the leading role is played by Social Media. Social Media is a multicultural phenomenon constantly evolving, proven by the ever-increasing rates of its use on a global scale. It is utilised in communication, education, professional activity and, more broadly, in the socialisation of people, influencing their lives in many different ways, especially the lives of young people. It is no coincidence that they are considered the most significant social change since the Industrial Revolution.
This study aims to investigate the use of Social Networking Media (NSM) through a vast network of individual, interpersonal and social factors that seem to link the use of Social Networking Media (NSM) to the digital borders of a city. Particular emphasis is placed on factors related to users' identity data, such as their personality characteristics and the motivations that lead them to use NCMs. In addition, an attempt was made to analyse data on the use of NCDs at a global, European and national level (in the Greek state) based on the most recent statistics in order to make the necessary comparisons.
OTHER INCIDENTS IN THE SAME PLACE