Summer activities of the Kalamata Creative Documentary Centre - Nedousa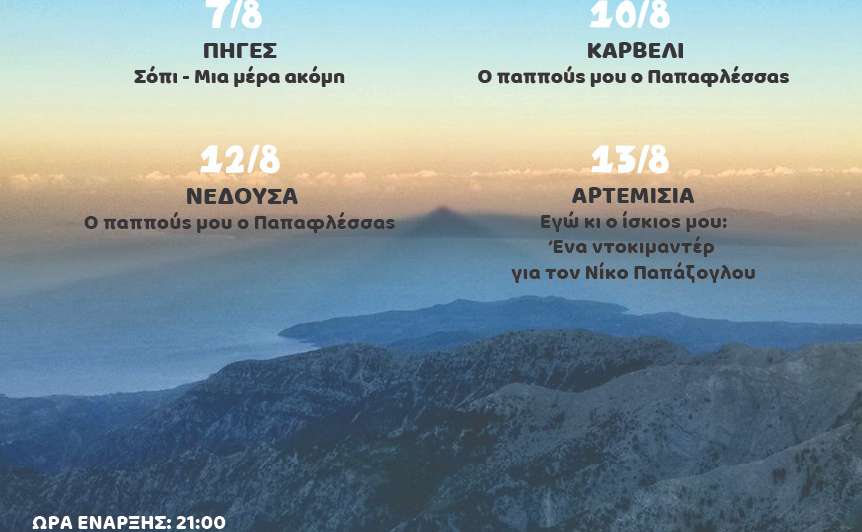 True to its commitment to promoting culture by enabling audiences to enjoy cinematic productions of recent years in remote areas, the Kalamata Creative Documentary Centre travels to the mountains this summer - and specifically, for starters, the villages of the Messinian Taygetos, starting this Saturday, July 23rd, with the screening of two documentaries in Ladas.
The action is carried out with the support of the Municipality of Kalamata as part of the events for the Cultural Summer 2022, in collaboration with the local cultural associations.
At the same time, similar actions are planned in various regions in the near future, while the members of the centre are working feverishly for the implementation of the Solar Mobile Cinema pilot project, with tours throughout Messinia and beyond.
Friday 12/8 NEDOUSA
My grandfather Papaflessas | Kleoni Flessa (70')
A tender look at the hero of the Greek Revolution. Papaflessas travelled to Constantinople during the Era of Romance and became a member of the revolutionary organisation the "Friendly Society", taking on the task of inciting the enslaved against the Ottoman Empire. What is it that sets heroes apart? Were there any mitigating circumstances for their mistakes?