Papaflessas - Hero of the Revolution of 1821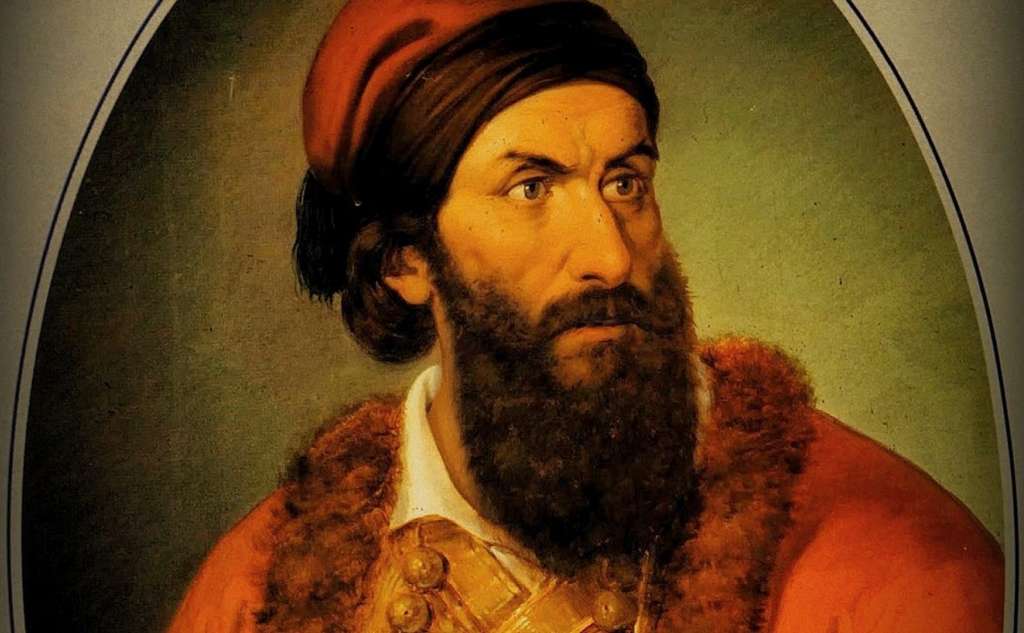 THE "BOMBER OF SOULS"
Gregory Flessas, (known to all of us as Papaflessas), was born at Poliani in Messinia in 1788. He was a clergyman, politician, and fighter of the Greek Revolution of 1821. His secular name was George Dikaios and he was a late son from a second marriage of Dimitrios Dikaios, who had a total of 28 children. He studied at the Dimitsana School, which he did not complete, and in 1816 he became a monk in the monastery of Our Lady of the Oak in Kalamata. There, he was named Gregory Priest Flessas. Later, after having an argument with the bishop of Monemvasia, he left and went to the monastery of Rékitsa.
In Zakynthos he met Theodore Kolokotronis, and later in Constantinople he was ordained Archimandrite by Patriarch Gregory I. In Constantinople he met Anagnostaras, who introduced him to the Filiki Society, on June 21st, 1818. In the Society documents he signed under the name of Competent and inscribed with the initials A. M.
In November 1820, Papaflessas bought a boat from Constantinople, and after receiving the sum of 90,000 rupees from the local Society Tax Office, he left for the Peloponnese. At Kydonia, (or Ayvalık), he loaded a ship with ammunition destined for Mani. On March 23rd, 1821, he arrived with his soldiers and other chieftains under Petrobey Mavromichalis in Kalamata, while in July he was in the Grand Dervenias of Megarida to halt Omer Vrioni's course. He became a member of the Peloponnesian Senate and in the Convention of Epidaurus (in December 1821), he participated as an attorney and was named a senator. In 1823, the Second National Assembly at Astros Kynuria elected him Minister of the Interior and from this position he determined the obligations of the citizens to the Nation.
When Ibrahim threatened the outcome of the Revolution, Papaflessas proposed the release of Theodore Kolokotronis and other anti-defectors. But this was not done in time. So Papaflessas rushed to Maniaki Messinia, gathering 3000 horsemen and pedestrians. At Maniaki, he was found dead, provoking heroic resistance with his few men against the Egyptians. According to historical data, after the end of the battle Ibrahim Pasha demanded to find Papaflessas' dead body. When they found it, Ibrahim approached dead Papaflessas and kissed him, saying, "It's a sin to have lost a warrior like him"…