Municipal Regional Theatre - "The Gorilla and the Hydrangea"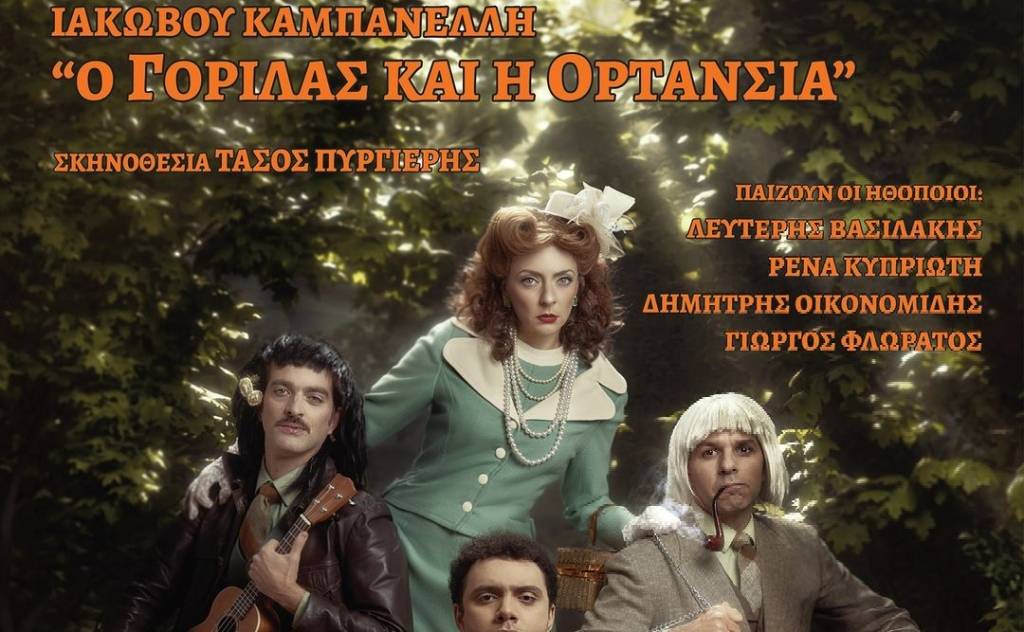 As part of the tribute for the 100th anniversary of Iakovos Kampanellis' birth, the Municipal Regional Theatre of Kalamata chose to honour the patriarch of modern Greek theatre with the allegorical comedy "The Gorilla and the Hydrangea", directed by Tasos Pyrgieris.
A crazy comedy or farce or fairy tale or parable or a game for four actors and any spectators who want to play with them, in three images and three versions, notes the author himself in the prologue of the play, suggesting that the play be finished three times and not once – like all plays. Three attempts to escape the play's characters from the paranoid relationship in which they are trapped.
A situation comedy with a series of twists and turns that hopes to endow viewers with an enjoyable hour of uplift and euphoria.
A scientist, "The Professor", in his quest to perfect a discovery for the good of humanity, brings home a Gorilla to help him in his scientific experiment. In this house, he lives with his rich, aristocratic, God-fearing wife, Mary, and his former assistant, the socialist Philip, whom the "Professor" has now demoted to the man for all jobs. The arrival of the Gorilla brings twists, changes the already delicate balances in the house and leads the heroes to significant and essential changes in their lives.
Iakovos Kampanellis wrote "Gorilla and the Hydrangea" in its first form as a one-act play in 1952. In this form, it was presented by Elsa Vergis' troupe in 1959, directed by Mitsos Lygizos. But the author felt that he still needed to complete the myth and the idea of this work, and he dealt with it again in 1988 and delivered it to us in the form we have today at the beginning of 1989.
COEFFICIENTS
Author: Iakovos Kampanellis
Directed by: Tasos Pyrgieris
Sets/Costumes: Elina Drakos
Assistant director: Sofia Kastrisios
Set Designer/Costume Designer Assistant: Stefanos Simitsis
Actors:
Professor: Lefteris Vassilakis
Mary: Rena Kypriotis
Philip: George Floratos
Gorilla: Dimitris Economidis
First presentation: 17th December 2022 at 21.00
Performances
17/12 at 21. OO
18/12 at 2O. OO
22/12 at 21. OO
23/12 at 21. OO
29/12 at 21. OO
30/12 at 21. OO
7/1 at 21. OO
8/1 at 2O. OO
14/1 at 21. OO
15/1 at 20. OO
21/1 at 21. OO
22/1 at 2O. OO
28/1 at 21. OO
29/1 at 2O. OO
4/2 at 21. OO
5/2 at 2O. OO
Performance duration: 80 minutes