1st Kalamata Children and Adolescent Film Festival - "Do Good" Competition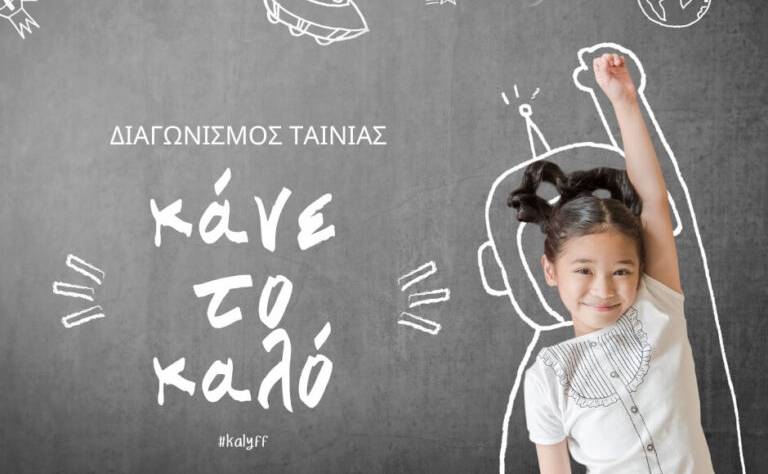 The First Kalamata Children and Adolescent Film Festival (#kalyff) invites children and teenagers to let their imagination run free and participate in an educational and entertaining activity.
Young people over the age of 10 can take part in the "Do Good!" competition, create their own film narrative and win film prizes. All films will be screened at the Children's Film Festival on Saturday, February 11th, in a public screening, where the audience will award the best one!
Contest terms
Create your own short film (up to 2 minutes) in which you are invited to do a good deed!
Build the team: Alone or with friends, whichever you prefer!
Write the script: draw inspiration from everything around you: friends, relatives, pets, objects, toys or elements that characterise your everyday life and make your story. Consider the condition that the wise screenwriters also say: Who, where, when, how and why? How does the story begin? What is its title? What are the surprises and twists that bring the story to a climax? And finally, how does it end?
The purpose is to show a good deed to those around you, the weak, the environment, and everything we love!
Discover your equipment: choose a mobile phone, tablet, laptop, camera, or whatever works best for you.
Discover your space: Explore every nook and cranny of our home, garden, school, neighbourhood, and city. The combinations are endless!
Make your shot: Open the lens and choose the distance you prefer. Try to shoot in good resolution (hd, 720p or 1080p) and in landscape mode 16:9 (we don't want to squint!)
Hurry up! You only have one week!
The deadline ends on Monday, February 6th!
Send your videos to [email protected]
If your video is long, you can use wetransfer.com
More information and the participation regulations will be available on the Festival website: https://www.filmhouse.gr/kalyff.
OTHER INCIDENTS IN THE SAME PLACE