Doufexis Travel Services - Ancient Mystras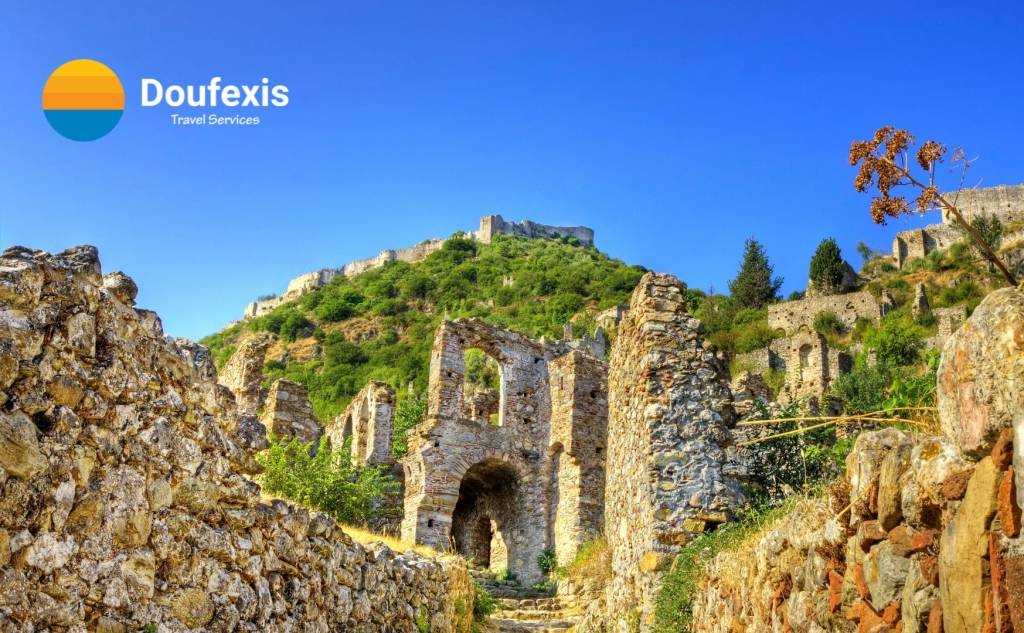 The Ancient Mystras Tour will take you back to the days of Byzantine rule. The site's 700-year history and the wonders of its glorious past are reflected through its many houses, churches, and monasteries. This UNESCO site is not to be missed.
The journey to Mystras is described as the most beautiful journey in the Peloponnese. As you travel up and over the Taygetos mountains, you will reach a height of 1400 metres before you descend into the stunning Laggada pass and gorge. Then you'll catch the first glimpse of Mystras clinging to the side of the mountain 650 metres above sea level.
Once the capital of the Peloponnese and the Byzantine empire, Mystras reflects this glorious past. Steeped in history, it was the centre of excellence for the arts and learning during the period.
Within Mystras, you will visit the fortress, the walls, the gates, mansions, houses and the convent. Many of the original 25 churches built here still survive and have their original frescos.
To fully explore the site and maximise sightseeing, the coach drops guests off at the top gate, who will meet up later at the bottom gate.
When you finish your Ancient Mystras tour, Doufexis Travel Services will take you on a short drive to the modern City of Sparta, where you will have some free time before your return journey.