M.A.R.I.K.A.: Performance - documentary, theatre action about yesterday's and today's women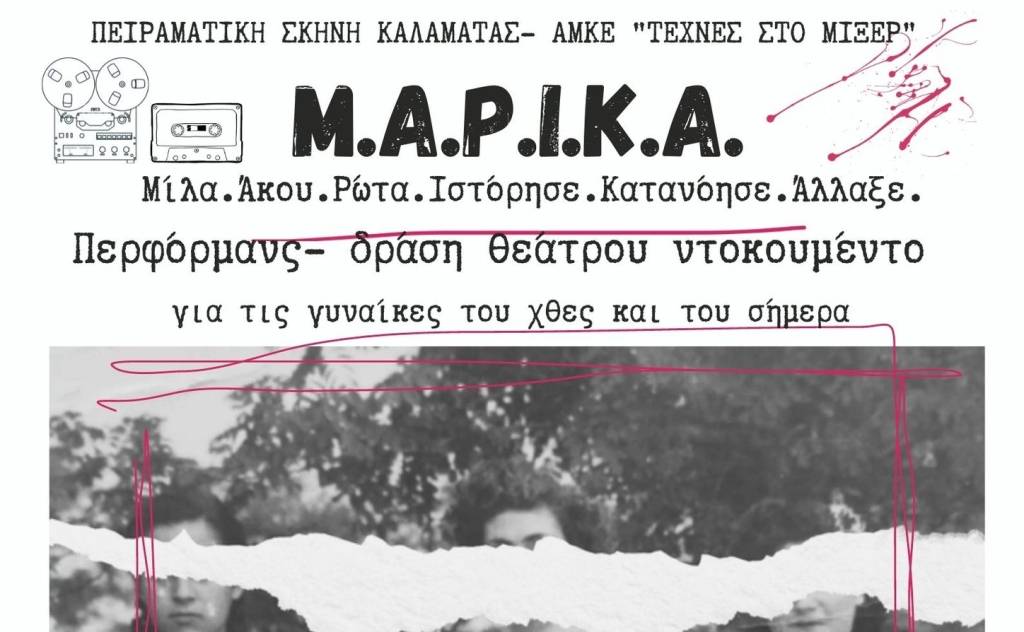 The M.A.R.I.K.A. programme (Speak, Listen, Ask, Tell, Understand, Change) and the group of teenagers who attended it with the cooperation of the Experimental Stage of Kalamata, invite you on Sunday 11th December 2022, at 13:15, to a theatrical-drama action open to the public dedicated to the women of yesterday and today.
The action will occur in the Foyer of the Cultural Centre of Kalamata. Admission will be free.
A few words about the M.A.R.I.K.A. programme and team action:
Our starting point is Marika, an "unknown" everyday woman who lived from 1925 to 2007. The incomplete education, the patriarchal family, the manual work from an early age, the forbidden love, the consular marriage, the public drag and the gossip of the neighbourhood, and abusive relationships within the family are some of the elements that defined her life.
The above concepts, combined with the historical events of that period that made people's lives difficult and defined their minds "those years", were explored in our city through theatre-pedagogical techniques and documentary theatre by 16 teenagers. The children looked for and gave answers to related questions through interviews with local women of different ages in order to understand to what extent and whether people's perspective on gender inequality is evolving in their years.
Are women still treated differently?
What is the position of today's youth in relation to equality?
What does equality mean?
How can it be achieved?
How will women be empowered effectively?
How to break the cycle of silence?
Why and how is oral history important?
The M.A.R.I.K.A. programme is an initiative of A.M.K.E. "Arts in the mixer" implemented in 7 cities throughout Greece (Athens, Thessaloniki, Xanthi, Kalamata, Milos, Sifnos, Chania) with the support and funding of the Ministry of Culture. The programme was addressed in this first phase (October-December 2022) to teenagers, aiming to study women's position over time.
In our city, it was implemented by theatre teacher and director Yiolika Poulopoulou with the kind support of the Experimental Stage of Kalamata.