"The Glass Menagerie" by Tennessee Williams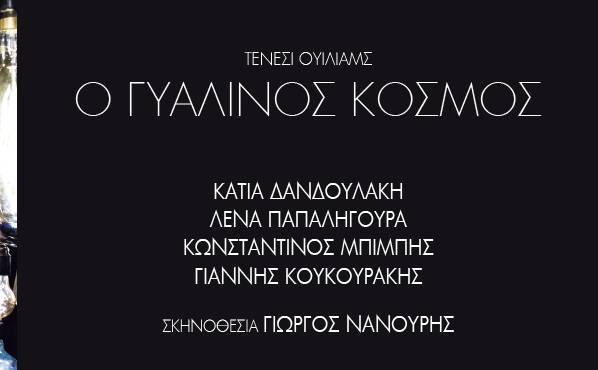 The "The Glass Menagerie" by Tennessee Williams, directed by Giorgos Nanouris, which premiered at the National Theatre exceeding 8,000 online views and continued with great success in the winter at the Alkyonis Theatre, begins its journey in Greece on July 10th with a new distribution: Lena Papaligoura and Konstantinos Bibis continue their successful course in their leading roles. In the new distribution, Yiannis Koukourakis brings Jim's role to life. And the emblematic figure of Amanda in one of the most important works of world drama is embodied by Katia Dandoulakis.
The Glass Menagerie - perhaps the most representative work of the author who marked post-war America with his drama - was written in 1944. It is a work of poetic breath and deep human sensitivity, where the world of harsh reality is intertwined with the fragile beauty of imagination and dreams. The play is a memory.
Tom remembers moments of his family life. His tedious job in a shoe warehouse has crushed his dreams.
Laura, his sister, faces life's difficulties by finding refuge in a microcosm of glass animals.
Amanda, their mother, hopes that her children will live as she never did.
Jim, a visitor on whom they pin all their hopes, will disappoint them.
Translation: Stelios Vafeas
Direction-Lighting: Giorgos Nanouris
Music: Thodoris Oikonomou
Scenes: Mary Tsagaris
Costumes: DeuxHommes
Assistant costume designer: Despina Ignatoglou
Photos: Elina Yunanli
Production: TO THEATRO – Co-production: NATIONAL THEATRE
Distribution:
Katia Dandoulaki: Amanda Wingfield- the mother
Lena Papaligoura: Laura Wingfield- the daughter
Konstantinos Bibis: Tom Wingfield- the son
Giannis Koukourakis: Jim O'Connor- the guest,