FINIKOUNDA ROCK & ROLL BEACH PARTY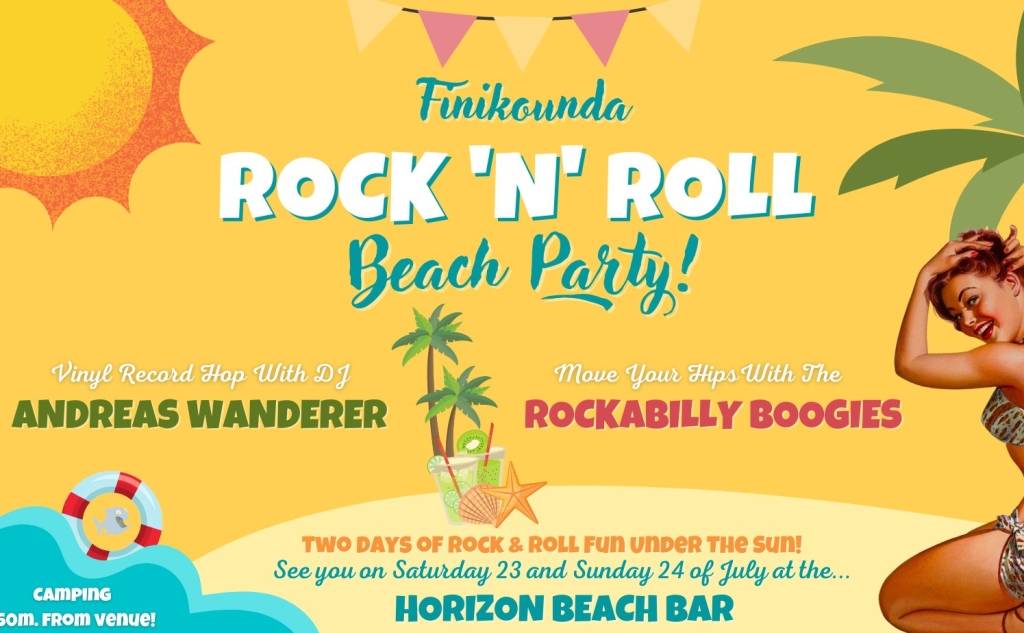 In the heart of summer, wear your Hawaiian outfits and make an appointment in exotic Finikouda for a two-day BEACH PARTY full of dancing, dives, ice-cold beers and non-stop ROCK N ROLL from 45 rpm discs!
- THE VENUE: Horizon Beach Bar
- ON DECKS: Andreas DJ Wanderer Rockabilly Radio - The Rockabilly Knock Down Radio Show
- ON the DANCEFLOOR: The Rockabilly Boogies Rock & Roll Dance Team
Saturday, July 23rd: The party will start from 16:00 until… it will show!
Sunday, July 24th: The party will start from 14:00 until… it will show again!
At Horizon Beach Bar, you will find:
- Ice-cold beers and delicious cocktails.
- Coffee makers and milkshakes.
- Burgers and modern Greek cuisine dishes.
Special Offer, only for the two days: 3 skewers and two beers at 10 euros… because a fasting bear does not dance (greek saying)!
- Good music, good mood, smiles, and if you are lucky ... summer loves under the stars.
ACCOMMODATION
Within walking distance from the Horizon Beach Bar, there are two Camping sites, Ammos and Thines. Your choice. If you prefer a room at a hotel, you should hurry to find one!
After a hard winter full of restrictions and lockdowns, it's time to return to our old habits!
On one of the most beautiful beaches in Greece, with a "strong" ROCK N ROLL party!
Swimwear, check!
Sunscreen, check!
Hawaiian outfit, check!
Charge batteries.
We'll meet in Finikouda!