"Poets talk": walking performance in the park of OSE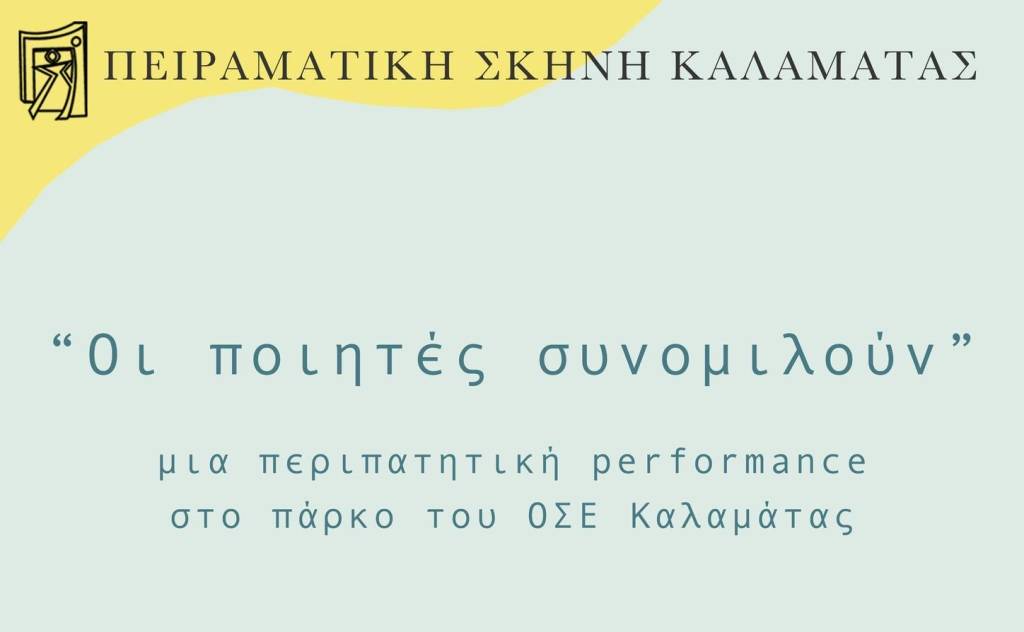 "The little student and the big teacher" by Giannis Aggelakas meet the "last ones" of Tassos Livaditis, "Magdalene, the big mammal" in "Nice Desert, Flesh", by Katerina Aggelakis-Rook. Finally, "the poetry" of Tito Patrikios finds them in the "poems" of Dinos Christianopoulos.
Excerpts and poems from the above books converse since they refer to the limits, love, the fear of any form of loss, to the daily search for the good side within us and through the eyes of others.
A seven-member group of young adults undertake to tell the above poetic stories while urging a group of spectators (up to 25 people) to wander in the park of OSE, see the space with different eyes, accompany, hear, and think. The performance lasts 45 minutes, takes place at 18.45 and 19.45 respectively, and the starting point is the statue at the northern entrance of the Park.
Conception-direction: Giolika Poulopoulou
From and with: Elias Tzouvara, Michalis Kraounaki, Venice Syrkou, Angeliki Katsikologou, Panteli Tsagari, Eva Balikou, Evangelia Tzavella.
In February 2022, a theatrical workshop was created again at the Experimental Stage of Kalamata for the university students of our city with Giolika Poulopoulou. The first cycle closes, and this action is an open presentation of their work so far.