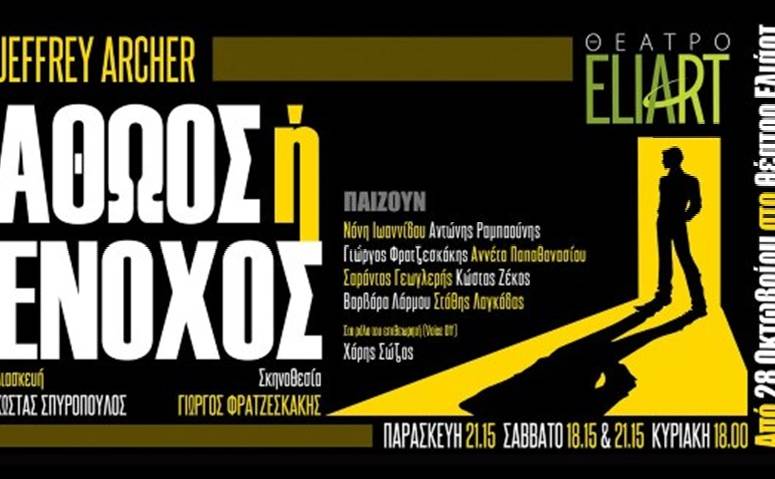 JEFFREY ARCHER - INNOCENT OR GUILTY
A powerful judicial mystery play by British playwright Jeffrey Archer that blew viewers away with its plot. A subversive situation that keeps the spectators' interest undiminished, who are invited for two hours to be on the jury. At the end of the trial, they will be asked to issue the verdict - guilty or not guilty. Acquit or convict the accused?
A prominent doctor is accused of murdering his wife in order to inherit her fortune. His best friend, a well-known criminologist, takes up his defence, the evidence of his innocence is as strong as the evidence of his guilt, and the audience is invited to be the jury. You will have to decide… Did Dr Sherwood murder his wife? Was Jennifer Mitchell his mistress? Which alibi of his to believe?
A play with a subversive finale that depends on the viewers' decision.
Thursday 1st & Friday 2nd December 2022
Two shows daily at 6.15 pm & 9.15 pm
Performance: Kostas Spyropoulos
Directed by: Giorgos Fratzeskakis
Sets - Costumes: Valentino Valassis
Lighting: Panagiotis Manousis
Assistant director: Stathis Lagadas
Contact: Marika Arvanitopoulou
Art Work : Mimika Kapoula
Photo - Video: Giorgos Krikos
Production: Yannis Roumeliotis
They play:
Noni Ioannidou
Antonis Rampounis
George Fratzeskakis
Anneta Papathanasiou
Sarandos Geogleris
Kostas Zekos
Stathis Lagadas
Voice Off: Haris Sozos
Prices:
Presale €12 (at the Cultural Centre and on Viva.gr)
Regular €15
Reduced €13 (Students - Unemployed - Over 65)
OTHER INCIDENTS IN THE SAME PLACE