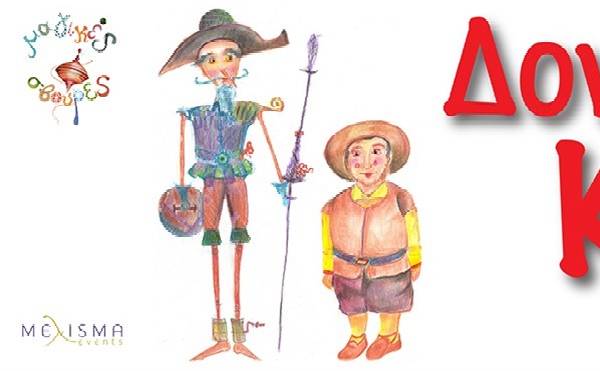 Now is the moment when the theatre will defend the dream because Don Quixote, everyone's favourite dreamy hero, shows us a brighter and more promising new path!
After the successful winter performances, Don Quixote comes galloping on his horse in his imagination to make the impossible possible, fight the darkness and command love over evil!
The show, full of incredible humour and sensitivity, praises, in the face of the brilliant Sancho, Don Quixote's faithful companion, friendship and companionship, devotion to people and the strength we gain when we all hope together.
The children, through the eyes of the director and all the actors in the show, live the achievements of a hero who loves the adventure of life and dares to live it despite the obstacles. The Windmills are always here, and we, Don Quixotes, have our dreams as armours.
The impressive performance also offers young spectators the opportunity to "meet" elements of Spanish Culture.
The costumes and the sets of the show are inspired by the works of painters who were inspired or lived in Spain, such as Velázquez, Goya, Dominicos Theotokopoulos (El Greco) and Salvatore Dali.
The excellent music all stems from the great tradition of Spanish composers. The songs are based on traditional Spanish songs specially adapted for children.
Summer 2022
"DON QUIXOTE"
The actors of the show:
Text - Director : Dimitris Adamis
Scenery: Panagiotis Koulouras
Costume Design: Domna Zafeiropoulou - Magic Spinners
Movement: George Sioras Deligiannis
Orchestration-Arrangement: Giorgos Konstantinidis
Music Teaching: Ioanna Emmanuel
Music Editor: Dimitris Adamis
Assistant director: Petroula Mantzoukidou
The cast of the show (in order of appearance):
Dimitris Stamoulis, Tassos Raptis, Marilisa Chronea, Paschalis Mermigakis, Elena Pelagia, Chara Nikolaou
The performance is staged with the support of the Cervantes Institute of Athens.