Creative Documentary Centre - Regional Screenings of the Olympia Festival in Kalamata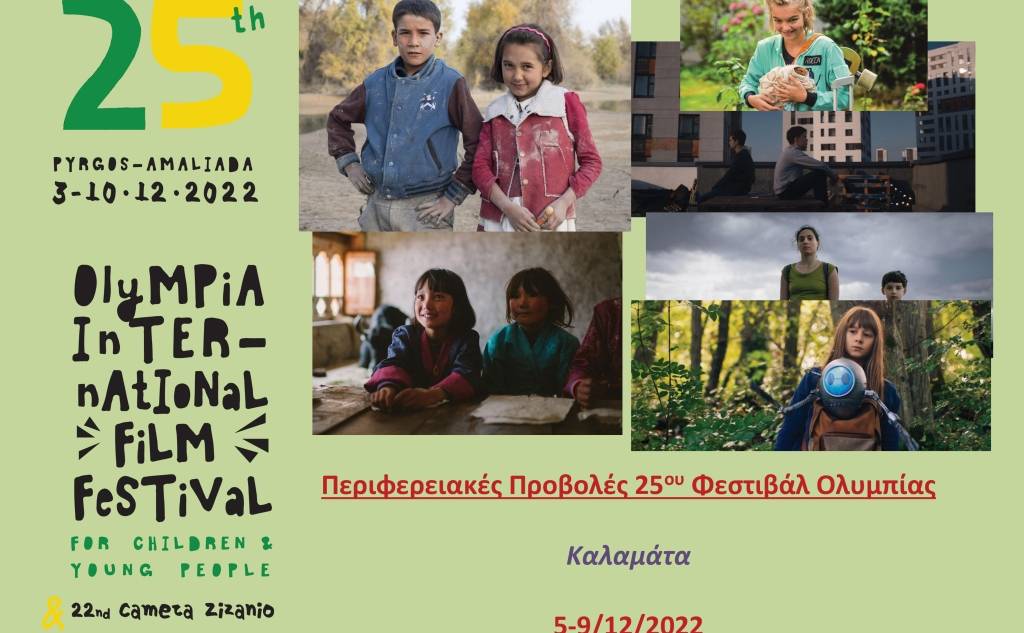 The 25th Olympia International Film Festival for Children and Adolescents, always aiming at the development of "Film Education" in Education, is again this year from December 5th to 16th, in collaboration with local cultural and educational institutions, organised morning screenings with free entry, of Award-winning Films for male and female students, in selected areas throughout Greece (Zakynthos, Lesvos, Agrinio, Alexandria Imathia, Kalamata, Alexandroupolis etc.).
In Kalamata, the screenings of the 25th Olympia International Film Festival are brought by the Creative Documentary Centre for another year, from December 5th to 9th, at its new screening space at 6 Koutsomitopoulou Street. The screenings, which will take place between 9 a.m. – 1 p.m., will be held in collaboration with the local offices of the A & B Education Departments of Messenia - which have already sent a relevant invitation to the schools.
The films comply with the basic conditions established by UNICEF, UNESCO and international organisations for Cinema for Children and Adolescents. They come from the unique Children and Adolescents' Film Library in Greece and are approved by the Institute of Educational Policy of the Ministry of Education.
SCREENING SCHEDULE
MONDAY DECEMBER 5th
9 a.m. "Roca changes the world" (10+) 101.'
Germany, 2019
Directed by: Katja Benrath
Brave, funny and unique: this is Roca. She is eleven years old and lives a rather extraordinary life. While her dad looks down on her–since he's an astronaut on a mission in space, Roca lives alone with her squirrel and attends a regular school for the first time in her life. Her carefree and unconventional lifestyle makes her immediately stand out among her classmates. She bravely faces the class bullies because, first and foremost, Roca stands up for justice. That's why, after all, she befriends homeless Kaspar and tries to help him. At the same time, she fights with all her might to win her grandmother's heart.
11 a.m. "Oscar and Lily" (12+) 102.'
Austria, 2020
Directed by: Arash T. Riahi
Two refugee children from Chechnya, 8-year-old Oscar and 13-year-old Lily, who have been living in Austria for the past six years, are to be deported together with their mother. The latter's suicide attempt results in the short-term postponement of the deportation but also means the forced separation of the family. The children's hope of being reunited with their mother is fueled by their love for each other and bypasses all bureaucratic obstacles with passion and poetry. A bittersweet odyssey, which reveals that sometimes in order to survive, you need to interpret the world around you in many different ways.
TUESDAY, DECEMBER 6th
9 a.m. "Call Me Black" (14+) 93.'
Russia, 2020
Directed by: Pavel Mirzoev
At first glance, Kostya - the "Cat" - Sukhoveev is an ordinary 14-year-old. He doesn't do well in school, his parents are divorcing, and he doesn't have many friends, until one day he finds one on the internet...
11 a.m. "Little Wolves" (12+) 94.'
Mexico, 2019
Directed by: Samuel Kishi Leopo
Two little brothers, Max and Leo, have just crossed the borders from Mexico to the US with their mother, Luthia, in search of a better life. However, it is not at all easy for them to find their way in their new homeland. While waiting for Luthia to return from work, the children construct a fantasy universe with their drawings and think about their mom's promise that they will go to Disneyland, their own Promised Land. The director builds on his own childhood experiences and tells a story of immigration that is explosively relevant.
WEDNESDAY DECEMBER 7th
9 a.m. "The Heart of Mesquite" (12+) 74'
Mexico, 2019
Directed by: Ana Laura Calderón
Luthia, a girl from a northern Mexican indigenous tribe, the Yoreme, dreams of healing her father's broken heart by playing the harp, a musical instrument traditionally played only by the men of her community.
10:30 am
"Mouse house"
Timon Leder, Slovenia-Croatia, 8', 2021 (6+)
A greedy mouse gets trapped in a giant head of cheese, while his hungry friend trapped outside must face a hungry cat.
"Foreign country"
An Vrombaut, Belgium, 8', 2022 (5+)
In Savannah, some strange animals are playing hide and seek. They look like giraffes but without a neck. Suddenly, Gerda's neck grows. After the initial shock, the group resumes their game, but Gerda finds it challenging to hide. When clouds appear and cover Gerda's neck like a scarf, she loses sight of the others. The real hideout has just started.
"Hush, my bear."
Māra Liniņa, Latvia, 5', 2022 (3+)
While the bear's parents are away looking for berries and honey, the baby bears stay at home with the sheep. The teddy bears have fun playing with a ball of yarn but soon find themselves completely tangled! Luckily the sheep helps them put everything back in order. The film is based on the traditional Latvian "Hush Hush Little Bear" lullaby.
"Dad is big. I'm little."
Anya Ru & Masha Rumyantseva, Italy, 3', 2021 (3+)
A short and tender story about a little girl saying goodbye to her sailor father, who is leaving for a long journey. Her childhood imagination will brighten the long wait.
11:30 am "First Farewell" (12+) 88.'
China, 2018
Directed by: Lina Wang
Deep in northwest China, surrounded by cotton fields and desert, the Uyghur village that Isa calls home lies. When he is not at school and working in his parents' fields, he spends his time carefree in the company of his friends until life forces him to begin a series of successive farewells. His mother's illness is an unbearable burden for the family, so his father thinks of putting her in a clinic far away from the village. His best friend, Kalbinur, is getting terrible grades, and his parents are preparing to send him to a distant school. And finally, the lamb, which the two children raised with affection from the day it was born, disappears. Winter is coming to Isa's world.
THURSDAY, DECEMBER 8th
9 a.m. "Lunana, A yak in the classroom" (10+) 109.'
Bhutan, 2019
Directed by: Pawo Choyning Dorji
A young teacher in modern Bhutan, Ugyen, neglects his duties as he prepares to leave for Australia to become a singer. As a form of punishment, his superiors send him to complete his service in the most remote school in the world, in the village of Lunana. After eight days of gruelling trekking to reach the village, he realises that he must say goodbye to his westernised comforts. In Lunana, there is no electricity, textbooks, or even a blackboard. Despite their poverty, the villagers prepare a warm welcome for their new teacher, who has the heavy task of teaching the village children in the absence of any infrastructure. And while he is preparing to resign and leave, the difficulties of the everyday life of his outstanding students begin to move him, and the incredible spiritual power of the villagers begins to change him.
11 a.m. "Liana" (10+) 77'
Swaziland-USA-Qatar, Documentary-Animation, 2019
Directed by Aaron Kopp & Amanda Kopp
A girl from Swaziland sets out on a dangerous mission to rescue her young twin brothers. This animated African fairy tale is born from the imagination of five orphaned children from Swaziland, who work together to tell a story of survival drawn from their darkest memories and brightest dreams. The journey of their fictional protagonist is interwoven with poetic and penetrating documentary scenes, creating a one-of-a-kind celebration of collective storytelling.
FRIDAY DECEMBER 9th
9 a.m. "Luth and the rock."
Britt Raes, Belgium-France-Netherlands, 13', 2022 (6+)
One day, a giant rock appears out of nowhere in the middle of the small peaceful village where Luth lives. The villagers can no longer even open the door of their houses! Luth is angry: go away, rock, you have no place here! And how did you end up here anyway?
"Fairy"
Cedric Igodt & David Van De Weyer, Bulgaria-Belgium, 16', 2022 (5+)
The story of a young fairy who is bored of the strict and formal life in the fairy tale castle, where fairies must always be sweet and wear pink dresses. She would rather be a witch because witches are allowed to scream, get dirty and fly on broomsticks. Because her mother strongly opposes such a thing, the young fairy decides to leave the castle and run away to the witches' forest.
10 am. "My grandfather is an alien" (+10) 79.'
Croatia- Slovenia- Czech Republic- Slovakia- Norway- Bosnia & Herzegovina- Luxembourg, 2019.
Directed by: Drazen Zarkovic, Marina Andree Škop
The life of a little girl, Una, is turned upside down when her grandfather is abducted by aliens. In the basement of her house, she accidentally discovers that her grandfather himself is an alien whose spaceship crashed on earth many years ago. Its captain, a grumpy little robot, is also left out here. The two have less than 24 hours to save the grandfather.
11:30 am "Pocket" (14+) 92'
Serbia-Germany, 2015
Directed by: Goran Radovanovic
In Kosovo, during the war, Nenad's family lives in a Serb-Christian area surrounded by it is filmed by a large Albanian Muslim community. When his beloved grandfather dies, the ten-year-old decides that he should be given a proper funeral, even though the cemetery is far from the area. His mission will take him behind enemy lines, where he will find friends in unlikely places.