Kalliergon - Acting and Actors' Marketing Seminar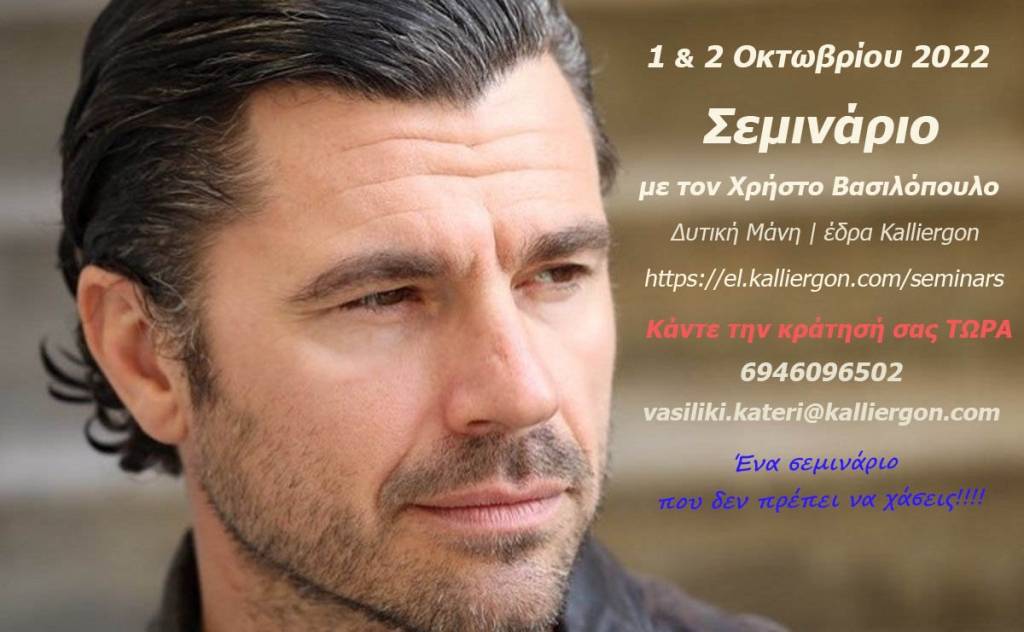 Acting and Actors' Marketing Seminar, with the internationally renowned actor Christos Vassilopoulos, will take place at the Kalliergon headquarters, at the "Gonatsa" area of ​​Neochori, West Mani, on Saturday and Sunday, October 1st and 2nd, 2022.
It is a rare and valuable seminar aimed at professional drama school graduate actors and drama school students. It is also addressed to people who work or would like to work in this area, exploring the art of acting. It is a seminar where one will learn what is NOT taught in schools. The attendants will get to know all the truths, secrets and "fine print" about the reality in the field of Acting. Many answers, directions and advice regarding the actors' marketing will be given, thus helping to open roads inside and outside Greece.
How should actors promote themselves, and what should they know?
How do young actors start their careers in acting?
What are the secrets of the camera?
What are the secrets to a successful audition?
What is the concept of a successful career?
How should we take advantage of the opportunities we are given?
What would be good to avoid?
More information on registrations and a detailed programme for each day can be found on the website: https://el.kalliergon.com/seminars.
Places are available to a limited number of participants, so all interested parties should register early.
P.S. The same seminar will take place at the Metropolitan The Urban Theater in Thessaloniki on October 19th, 2022.