Fall Retreat: Embracing Body and Soul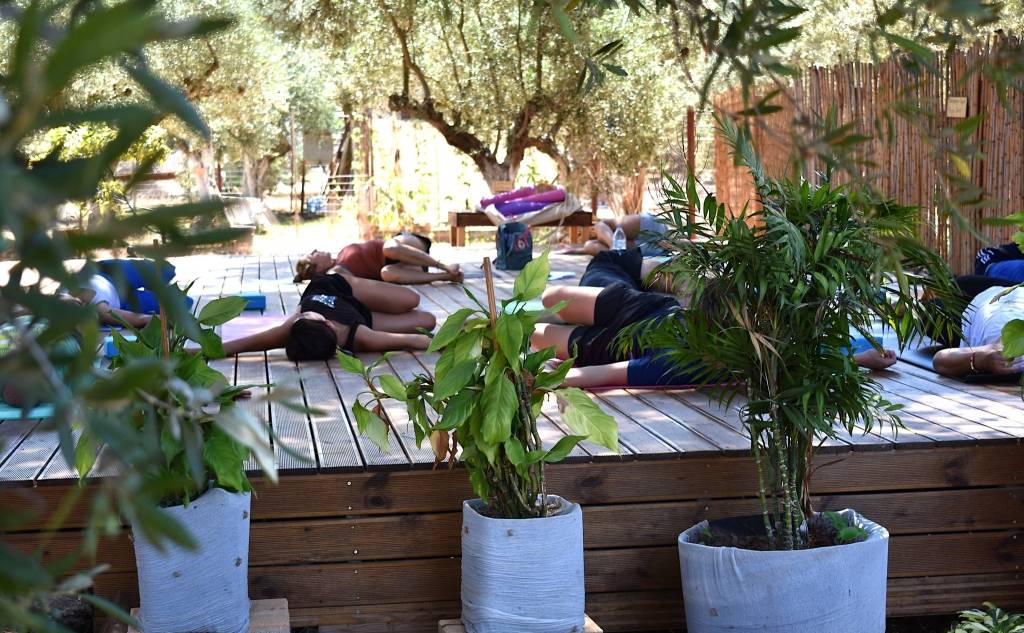 At the sweetest time of the year, the end of summer and the coming of September, which for many marks the beginning of a new era, we invite you to a three-day retreat where we will embrace our body and soul. In the beautiful and welcoming Skiaxtro Ecological Farm, under the shade of olive trees and pines, we will escape, relax, recharge our batteries and maybe get to know ourselves a little better...
These three days, we will practice Hatha Yoga, which even beginners can follow, breathing practices and meditations, we will improvise in a mandala workshop, and we will attend two psychology seminars aimed at helping us
1. to learn aspects of ourselves through our dreams and
2. to use our anger as a tool for self-awareness.
The actions are structured in such a way that at the end of this three-day seminar, along with their luggage, each participant will have learned valuable lessons in well-being and self-awareness as well as simple and understandable tools for improving everyday life.
The retreat program in detail:
Friday 2/9/22
12:00 - 18:00: arrival at the farm and settling in the tents.
18:30 - 19:30: Getting to know each other
19:30 - 20:45: Gentle Hatha Yoga, breathing practices and meditation with Alexandra Souleles
21:15: Dinner
Saturday 3/9/22
09:00 - 10:15: Yoga
10:30: Brunch
11:30 - 17:00: Free time to get to know the beauties of the area
17:30 - 19:00: Psychology seminar "We learn about ourselves through our dreams" by Christos Vrachas
19:30 - 20:00: Breathing practices and meditation
20:00 - 21:00: Mandala workshop with Alexandra Souleles. We continue the journey of self-awareness through mandalas' colours and dream symbolism.
21:15: Dinner
Sunday 4/9/22
09:00 - 10:15: Yoga
10:30: Brunch
11:30 - 13:00: Psychology seminar "Anger as a tool for self-awareness" with Christos Vrachas
13:30: Closing
It is possible to check out late until 7 pm so that we can enjoy another lovely walk in the area, as well as an extra night for anyone who wishes at an additional cost.
Accommodation is in luxurious, fully equipped Bell Tent type tents with a diameter of 5m, double or triple. It is also possible to stay in smaller tents (equipped with a mattress, sheets and electricity) for someone who wants to stay alone. Skiaxtro Eco Farm is located in Marathopolis, Messinia, 3 hours from Athens. It is a place of well-being, creativity and experiences made with a lot of love and passion so that visitors can relax and enjoy the tranquillity of nature to the fullest.
Cost:
Triple tent €170
Double tent or small single 195€.
The price includes:
- Accommodation in tents at the Skiaxtro ecological farm.
- Vegetarian half-board: two brunch-style meals with sweet and savoury delicacies and two dinners with homemade, traditional food made with local ingredients.
- Yoga, breathwork & meditation practices.
- 2 psychology seminars.
- Mandala Workshop.
The price does not include transportation. For an additional night, €25. A deposit of €50 is required to reserve a seat. If the organisers cancel the retreat or the participant cancels by 8/20/22, the deposit is refunded.
Declarations of participation until 25/8/22 at 6937840077.