Guitar Recital & Masterclass with Kostas Tosidis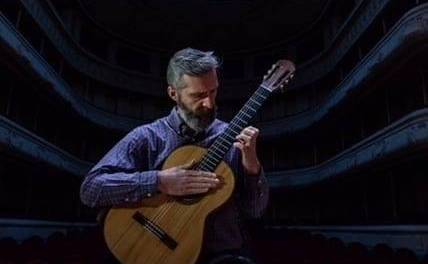 "Masterclass" with Kostas Tosidis
Saturday, 4th, Sunday, 5th & Monday, 6th February 2023, at the Municipal Philharmonic Amphitheater.
Participants will have the opportunity to take individual lessons with the great guitar soloist Kostas Tosidis. The number of students will be limited.
Participation in the masterclass costs 20 euros. For registrations, you can call 6977629389.
"Guitar Recital" with Kostas Tosidis
Sunday, February 5th, 2023, at 20:00 at the Municipal Philharmonic Amphitheatre.
Kostas Tosidis completed his studies with honours at the Mozarteum University of Salzburg in the class of Eliot Fisk and Ricardo Gallen and, at the same time, attended lessons with Marco Tamayo at the Klagenfurt Konservatorium. In 2009 he completed his postgraduate studies with honours and became Eliot Fisk's assistant, and this year he completed his PhD at the Royal Conservatoire of Brussels. He is a founding member of the multi-awarded Miscelanea Guitar Quartet and has a rich discography and collaborations with excellent composers such as A.Ourkouzounov, M.I.Ilias, F.Gasull, M.Dottlinger, G.Papakrasas, M. Smaili and G. Noussis. He will present works by L. Berio, F. Gasull, A. Ourkouyounov, G. Noussis and G. Papakrasas.
Ticket presale: Municipal Conservatory of Kalamata. Seminar participants have free entry.
Ticket cost: 5 euros.
OTHER INCIDENTS IN THE SAME PLACE