The bride's "Kouloura/bread roll-shaped "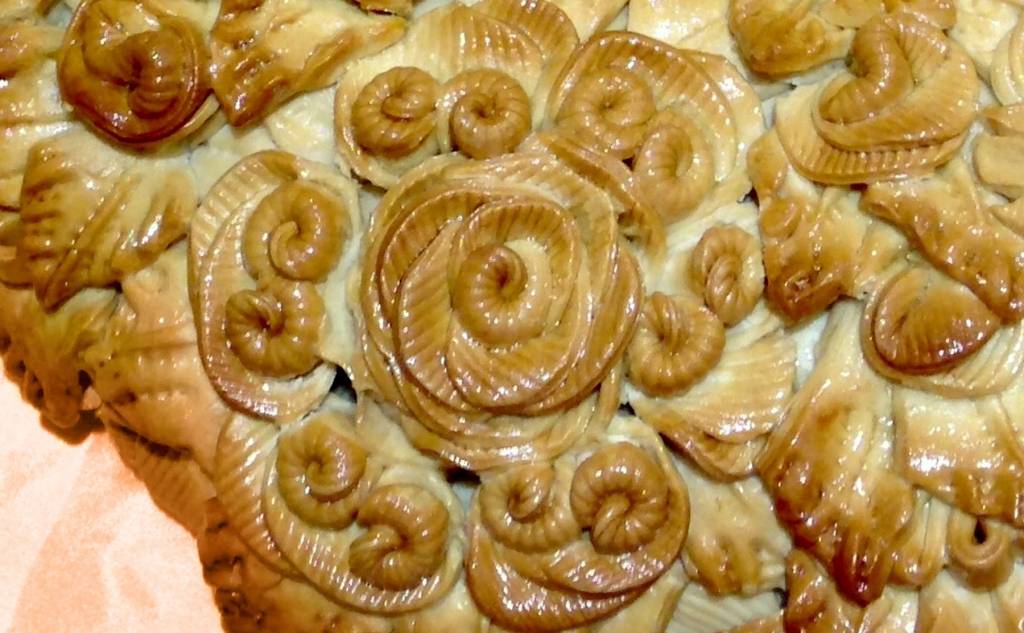 This is a very old and beautiful custom which is associated with the wedding, the offerof the groom, and the relationship that starts between the two families and last but not least with the wishes for the couple.
On Wednesday before the wedding, the mother of the groom, before the sun sets, starts to make the yeast/ leaven and calls upon the relatives and the neighbors to join her next day morning to make the knot (bread roll-shaped) of the bride.
The women who were to be presented to that beautiful custom, had a captured imagination and their craftsmanship was such,that made the knot an edible work of art.
They shape small pieces of dough and place them on the knot( kouloura), making vines with leaves and grapes, birds, flowers, fruits and many designs filling the whole surface with great precision and excellent technique.
Everything depicted in the "Kouloura/bread roll-shaped " had it's importance. The birds were to symbolize the children who would be born to a new family. The Grapes would be related to productivity, the fruits of the prosperity, and the flowers, the blossoming life of the newlyweds.
As long as the decoration lasts,  the women sing different songs about marriage and love. In the end,drinks  and sweets are offered from the groom's relatives.
The "Kouloura/Bread roll-shaped" goes in the oven, and during the Sunday of the wedding, they place it in a flower-decked basket, to which also they put sugar and rice as later, they assign to single man, a close relative of the groom with his both parents alive, to offer the knot to the bride, when in-laws go to her house to pick her up.
During the day of the wedding, after the relatives of the bride welcome the  in- laws in her house with sweets, drinks and snacks, the young man with the decorated basket calls on the bride to cut the knot.
The cut is made with hands, and each one tries to get the biggest piece,while later they cut the roll-shaped bread into smaller pieces and each one shares it among their relatives.