Alexandros Koumoundouros - Politician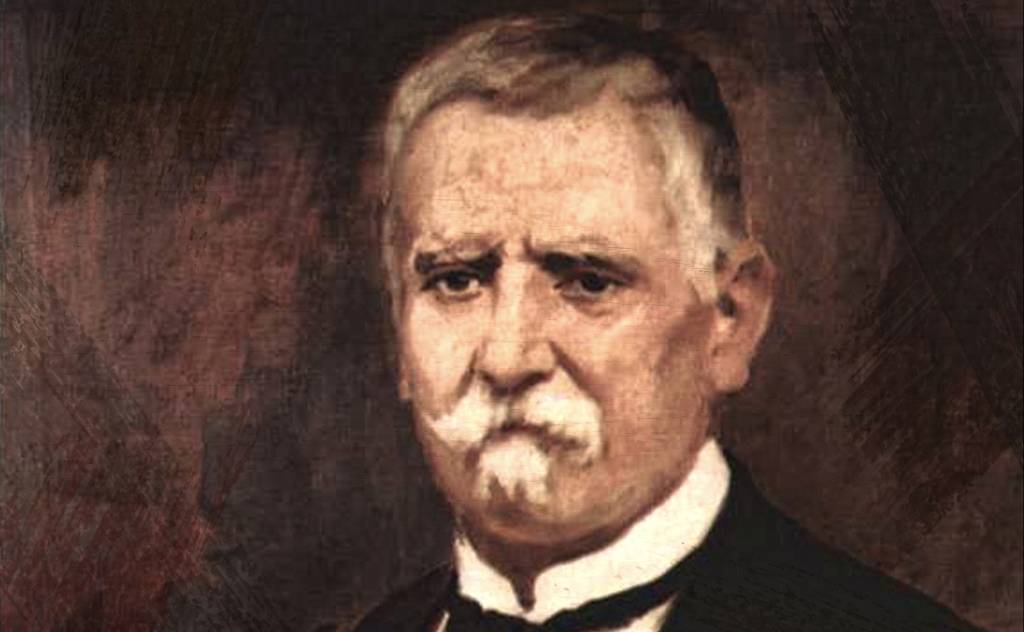 THE TEN TIMES, MANIATIS PRIME MINISTER
Alexandros Koumoundouros is one of the most important Greek politicians of the 19th century, who served ten times as Prime Minister of Greece for a total of, almost, eight years. He was born on February 4th, 1815 at Kampos, Avia, in the Messinian Mani, and came from a historical family. He was the son of the fighter Galanis Koumoundourakis, a descendant of a large Mani family, general and prefect of Pyrgos. As a child he was almost in danger of being captured by Ibrahim's Turkish - Egyptians. He attended high school in Nafplio and studied law at the newly established University of Athens. In fact, for a short time, he practiced law in Kalamata. There he had his first marriage to Aikaterini Mavromichali, daughter of the famous family of Mani, with whom he had two children, Konstantinos and Maria.
In 1841, he hurried to fight in the then revolted Crete and in the battle of Apokoronos he was in danger of being captured by the Turks. After the failure of the revolution he returned to Athens where he took over as secretary of Theodoros Grivas. In 1847, during the premiership of I. Kolettis, he was appointed deputy prosecutor in Kalamata. He held this position for three years until he resigned to become a statesman. In 1850, he was first elected member of the parliament for Messinia (then Messina), when he changed his surname from Koumoundourakis to Koumoundouros. Since then, he was constantly elected member of parliament. Four times during the reign of Otto (1850-1860), and during the reign of King George I until his death, with a short break (1868-1869). In 1855, (under the Boulgaris government), Koumoundouros took over the Ministry of Finance, in 1862 the Ministry of Justice, in 1864 the Ministry of Education and Ecclesiastics and in 1864-1865 and 1877 the Ministry of Internal Affairs. Also, in 1855, he served twice as Speaker of the Parliament. After the death of his wife Catherine, he got married for a second time to Efthymia Perotis, with whom he had a son, Spyridon.
On September 29th, 1864, an attempt was made to assassinate Alexandros Koumoundouros on Stadiou Street, at the entrance of the Assembly. The following year, in 1865, he founded the Koumoundouriko party. In the same year he became prime minister. From 1865 until his death he became prime minister ten times. As a minister and prime minister, he managed to fully secure the interests of Greece thanks to his moderation, straightforwardness and exceptional courage. His greatest achievement in foreign policy is considered to be the peaceful annexation of Thessaly and Southern Epirus (Arta region), in 1881. Inside the country, Alexandros Koumoundouros took care of the regulation of taxation, the reorganization of the army, while with the appropriate measures, (Law TOD '/ 1871 "On robbery"), managed to limit robbery on land and at sea. Dimitrios Vikelas, scholar of his time, had written about Alexandros Koumoundouros: "He was simple in life and at his political presence. On the contrary, his public action was intense and tumultuous. "
His political circle ended on March 3rd, 1882, when he did not receive a vote of confidence in Parliament. He died in Athens on February 26th, 1883, at the age of 68. He was buried at the First Cemetery of Athens and by decision of the Municipality of Athens, the square near his house, on Piraeus Street, was named Koumoundouros (now Eleftherias Square). Also, at Garbelia, at Kampos, Avia are his Tower and  bust. Alexandros Koumoundouros owned large areas in Attica and specifically in the area of ​​Elefsina, next to the sea lake that bears his name since then (Koumoundouros Lake).