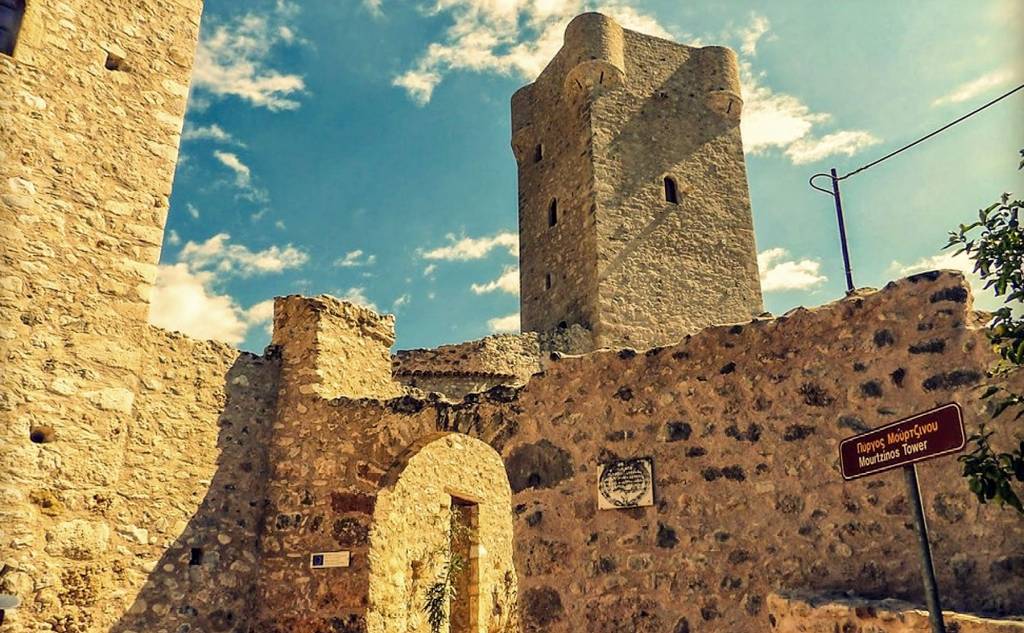 The Museum of the fortress complex is situated in the Old Kardamyli. The Troupakides-Mourtzinoi family, one of the most powerful generations in Mani, is found in written sources since the 17thcentury. Panagiotis Troupakis-Mourtzinos and his son Dionysios were members of the Society of Friends.After the death of Dionysos in 1830, the family started to fall away and ended with the premature death of his grandchild Katerinio, daughter of George Mourtzinos, the last male descendant of the well-known generation. Their heirs Maria and Helen Boukouvaleas, in 1967, granted the complex to the Greek Government under the condition that it would become a Museum.
The complex consists of three fortification enclosures, within which are enclosed the Tower, (built in 1807), the fortified home, the support buildings and the church of Saint Spyridon. The church, itself, is an indicative element of the family's social and economic power. The main tower was built in the end of the 17thcentury and the access was done by the use of a wooden retractable bridge leading to the first floor. Beside the traces of megalithic construction on the base of the walls, the complex's basic core was made during different phases dating from the 17thcentury till the 19thcentury.
The Museum's permanent exhibition is housed on the three-storeyed fortified home, (tower-house), which was built during the Second Venetian domination). The exhibition includes maps, sketches, engravings, photographs, models, as well as, a small number of objects.
The complex itself functions as an exhibit by the display of its structures and its unique function, (tower, cistern, family church, vegetable-garden, forge). The forge is actually the only one found throughout Mani.
 The complex's water supply was achieved by the use of an underground cistern, in which a pipe system was driving the rainwater.
For a number of months, the Tower of Mourtzinos accommodated the great chieftain Theodoros Kolokotronis, when in the 6thof January 1821 he arrived from the island of Zante.
The visitor may find the bust of Panagiotis Mourtzinos-Troupakis at the main square of Kardamyli, being created by the sculptor Νikos Bokeas.
OPENING HOURS